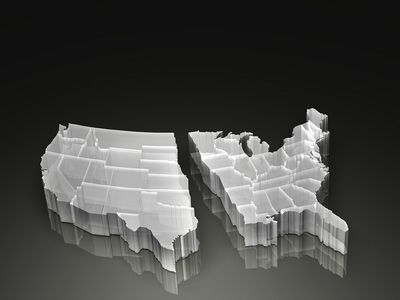 There Is A Reason That Only Half Of The Nation Is Angry…
I was thinking today how strange it seems that only half of the nation seems to be angry as it applies to the current direction that is being taken by America.  It occurred to me that there is a simple reason for that one-sided anger or even for the lack of consideration that all is not as it should be, especially with our government involvement with that direction.
Half of the nation seems to be worried by the actions of our government, collectively as they make changes to the very foundation of the nation, and justify doing so in the name of what is best for the people of this nation.
Half of the nation is concerned with the fact that in order to move forward, as a nation, our government seems to have the illusion that we, the people are required to forfeit certain rights and freedoms in order move forward.
Half of the nation sees that you do not have to destroy the foundation of this nation in order to solve problems, and we see that a weakened foundation is never in the best interest of the people, or the nation, as a whole.
Half of the nation seems to willing to give the government full reign and accept all they do as being done with honesty and integrity and would never actually have a plan to weaken the nation in order to benefit themselves, not the people of this nation.
Half of the people of this nation seem to be unwilling to read the legislation that is being passed, so they do not see that our government is telling us exactly what they plan to do.
Half of the nation seems to somehow see logic with a government that says they will protect us as they take away our ability to protect ourselves from that select few who reside in Washington.
Half of the nation has a difficult time in seeing that 47,000,000 Americans within the poverty level represents taking care of those who need assistance, as they are locked into that level of society by the threat of losing that assistance if they try to climb from that societal hole.
Half of the nation seems to support an economic plan by the president whereas the incoming taxation will increase by 10% while the government spending will increase by 16%.  These same people accept this economic strategy as the president tells us that his goal is to focus on the national debt.  (This defies economic logic, period.)
Half of the nation has this logically defying mentality that the Affordable Healthcare Act is anything other than the largest tax increase in the history of this nation, and it is based upon simply believing those in Washington, as opposed to simply reading the bill for themselves to see the truth.  And yet, those who have not taken the responsibility to read the bill will argue all day with those who have read the bill.
Half of the nation believes that since half of the people of this nation were not in support of President Obama in the recent election, that they are insignificant and have no right to question the goals and policies of the president.  I am no less American, nor do I have less rights simply because Obama was elected president, nor should I be vilified for not automatically supporting him with everything he says and does.  I do not have that level of loyalty to any man or government, and it certainly is not required.
Half of this nation can speak of the actual issues, and instead of conversation or debate that relates to those issues, the focus usually shifts to hate for the president, racism, conspiracy theories, or whatever other distraction that may come to their minds. To many, the issues do not matter as they have full faith in the government to do what is right.  That is blind loyalty and it represents gullibility and ignorance.
With most of my writes, I speak of actual issues.  I do not praise the Republican side of this political circus because they are unworthy of praise, just as are the Democrats.  Many Americans sit blindly and just watch the intrusive government as they daily weaken the very foundation of this nation, and their blindness allows them to simply not know the difference.  I couldn't care less about the right or the left; I am concerned about the declination of this great nation because many remain too lazy, too ignorant, and to unconcerned about what is happening to even have the ability to see that declination.
The main factor with all that is happening with our direction as a nation is that we, the people should never be willing to forfeit rights and freedoms because we have a government that is telling us that it is for our protection and best interest.  No, it removes our rights and freedoms and shifts control to the government, which is precisely what they want.  If people would actually read recent legislation that our government has passed, they would see that at any given moment, they could legally take over our lives in a manner that some could never imagine.  And they may very well do that because half of the nation is willing to let them.
Vic Damico 2013